Schools can now view key information about students' social-emotional wellness and learning. Abre now directly integrates with SSIS CoLab for evidence-backed, peer-reviewed surveys and supports.
Abre's Student Wellness tab within the Student360 contains functionality that allows for staff and family wellness advisor alignment for SSIS Resonant Survey completion. Survey response data is analyzed across respondents to provide data visualizations for SEL Composite Scores, CASEL Competencies and mental health oriented Emotional Behavior Concerns (EBC).
Student360 Wellness Tab & SSIS Integration
Districts that have purchased a license to the SSIS Resonant survey integration tool will have new functionality exposed within the Student360 and My Profile areas of Abre.
Within the Wellness tab of the Student360, the key alignment required prior to survey's being issued will be to assign Staff and Family wellness advisors.
Wellness Administrators (Permission Role)

: Have the ability to align any staff member within their district, including themselves as a student staff advisor.

Standard Staff: Have the ability to "Claim Student" and align themselves as the staff advisor.

Standard Family User: Family members who have redeemed a token to align a student to their account, will have the ability to align themselves or another rostered family member as the family advisor.

Note:

Only

family members can make the family advisor alignment.

System administrators: Have the ability to limit visibility to the Wellness tab through the Permissions section for each user.
Note:
Due to the nature of the third-party integration with the SSIS CoLab, Abre requires confirmation of the date for survey launch two weeks in advance. Additionally, Student advisor alignment should be finalized and locked 36-48 hours prior to district promotion for users to complete surveys.
Once alignment is confirmed, users will access their personalized survey links within their profile.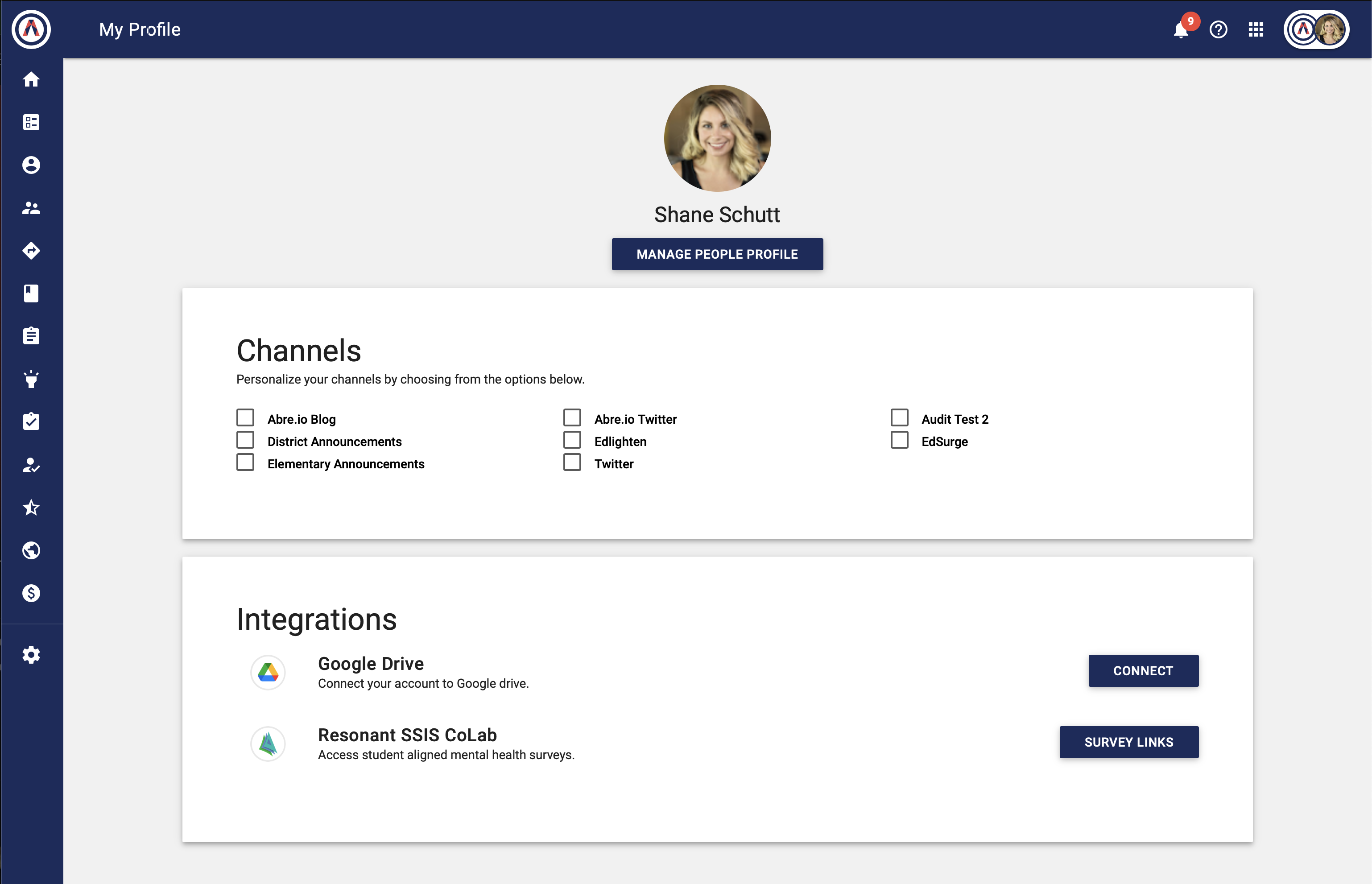 Clicking the 'Survey Link' button under the Integrations section of My Profile will direct users to a new page where all currently active survey links will be displayed.
Clicking the 'Take Survey' button will direct users to a Resonant Education branded page in a new browser tab which will automatically bring them to their dedicated survey link.

Surveys can be completed in English or Spanish and provide accessibility options for questions and available responses to be read aloud to users.

Upon completion of each survey, results will be automatically compiled and analyzed for display in the Student360 for SEL Competencies and Composite scores.